Ruby Central Guide Spotlight
This week we're highlighting members of our Scholars and Guides community, Ruby Central's conference mentorship program which provides new and aspiring Rubyists with a supportive social and, if needed, a financial pathway to entering the tech community.
Today's spotlight is a RubyConf2022 Guide. If you are thinking of attending the upcoming conference, becoming a Guide is a wonderful way to give back to the Ruby community and help continue to create the welcoming spirit that makes it so special. We hope this spotlight gives you a little insight into the experience and an extra nudge to "just do it!"
Guide:
Kyle Keesling
Title:
CTO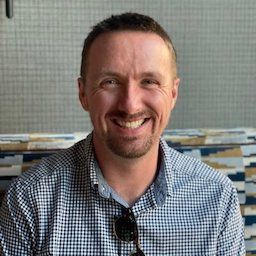 What's your favorite part about working on Open Source Software?
I love the collaborative and altruistic nature of it. The fact that we are a group of folks with an expressed interest in helping others – often strangers that we'll never meet – build cool, interesting, and useful things is a unique thing that warrants celebrating.
What's your least favorite part about working on OSS?
Occasionally you will see some people that mistake the generosity of others' time and efforts as something they are entitled to. We should never take folks' work for granted.
How did you get into Ruby?
I taught myself Ruby when my partners and I came up with the idea for our SaaS business. I was relatively new to OOP but had been making static HTML websites for years. The quality of life features and tools that Ruby and Rails provided made me an instant convert, and I haven't looked back since.
Why did you become a part of the Scholars/Guides program?
As someone who's been a part of the community for over 10 years, I'm also a team of one, with nearly all of my development work being done solo. I've appreciated the efficiencies and power that Ruby and its community have afforded me, and want to make sure that others continue learning and benefit from it. I also think it's important for folks to see that there are many different paths to happiness in our community, whether it's working for a large company, or for yourself.
What did it take for you to go from feeling like you had to work completely solo to engaging in the community through conferences?
As I wanted to grow more and learn more, I started using google search and finding resources. I found a lot of free resources. It seemed very unique that the Rails/Ruby community had many people willing to write about [their projects] because they wanted to share how cool they thought [their projects] were.
Being by yourself, you don't really know how well you're doing or if you're doing things right. Engaging with others — you find people you can have these discussions with, and get feedback. Build friendships. Beat imposter syndrome — and realize everyone feels the same way.
Can you speak to the level of awareness about different career paths for people new to Ruby or the industry in general?
Traditionally people think it's coder to manager. But…a lot of companies (especially with Ruby jobs) offer roles where you can continue to be an IC and still progress. You don't have to necessarily choose.
Especially for someone like me who has never worked in a traditional programming role, I don't know the structures and procedures that other companies use, but meeting people who have worked in those roles is interesting. People from all over the world come [to the conference], so it's really surprising and inspiring to see all the ways and places Ruby is being used.
What's something that surprised you at the conferences you've attended?
At RubyConf, there was a guy that made a game engine and was deploying games to the App Store. That blew my mind! In Japan, some of the government systems use Ruby. A lot of these times, we think we're just making a website. There's all kinds of applications that can be really inspiring. It's cool that we are using the same tools.
What do you think is the block people face that stops them from engaging deeply in the community via conferences?
Being a team of one, it was intimidating to think about going to this by myself. A lot of times programmers and technical people tend to be more introverted, so I think there are hurdles there. Then you go to these events, and you find a lot of commonalities with people –  you also see there's a whole, wide, diverse group of people. It's not just guys; it's women, people from all walks of life and from all over the world. It's really cool to have some kind of commonality and also have that diversity. I think it's something kind of special. It's something that our community puts a lot of emphasis on, which I think is really important. If you have to come alone, knowing that it's a community of very welcoming and open-minded people is a good thing.
What would you say to anyone considering the Scholars and Guide program who is on the fence?
If you're on the fence, do it. I can't really see a downside. You're already going to an event where you know that you have a lot of commonality with a lot of the folks that are there. And this kind of gives you another avenue to meet new people, make new connections, and be helpful to other people.
It was [also] nice on the other side because it's a two way street. I'm a friendly face to people, but they're a friendly face to me. So that was kind of nice, too…it was kind of a built in way to break the ice.
If you are considering in becoming a Guide, please follow this link to the applications.
February 16, 2023